WELCOME, QUESTOR, TO THE PLACE OF KNOWLEDGE
This part of the realm is sacred to the goddess Ceridwen, patron of bards and storytellers.
It is said that Ceridwen bore the child that was to be Taliesin, the famous Celtic bard. It is also said that she brewed a spell for a cauldron of inspiration for her first son, Agafddu, and that Taliesin, in another form, drank of the wisdom contained therein - thereby knowing the present, past and future all at once.
It is this well of inspiration, also known as Annwn - that all bards, poets, musicians and storytellers - keepers of the lore - dip into when creating their works.
Come with me and explore the results of the favour of Ceridwen ...
Celtic Music (coming soon)
---
Celtic scholar, Nancy Monaghan, has recently published the book THE DRUID STONE, which is available via Amazon.com and Borders.com. This book is the first in a series of Celtic mysteries and contains the stories THE SPIRIT STONE and THE ISLE OF MIST. Nancy is a respected member of the Irish-American Celtic community and I highly recommend you have a look at this book.
Go here to read a message from Nancy herself. Click on the image of the bookcover to read more about THE DRUID STONE.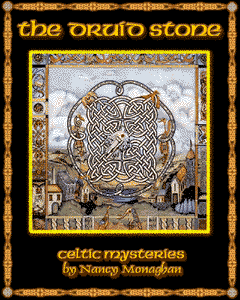 If you wish to order THE DRUID STONE from either Amazon or Borders, here is the ISBN code:
ISBN #0738814180 (Hardcover)
ISBN #0738814199 (Paperback)